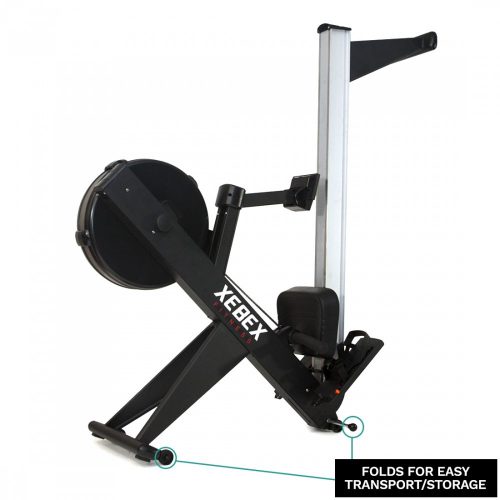 Easy Storage and Transport
The Xebex Air Rower 2.0 easily folds with one pull of a specialized pin. This allows for ease of movement across flat surfaces and takes up very little space for storage.
Xebex Air Rowers fold in half taking up less than 50% of original footprint! Only 3′ long x 20″ wide footprint when folded. Folding and transporting takes less than 5 seconds: pull the Xebex Air Rower Pull Pin until the rail touches the ground.
Lift the rail upwards until it clicks into position (no tools required) – and that's it! Now that it's folded, you're able to roll the Xebex Air Rower on 4 wheels out of the way and into storage with just 1 hand.
Xebex Rowers require minimal assembly. We include all the necessary tools, hardware, and clear, illustrated instructions. Allow 30-45 minutes to complete the job!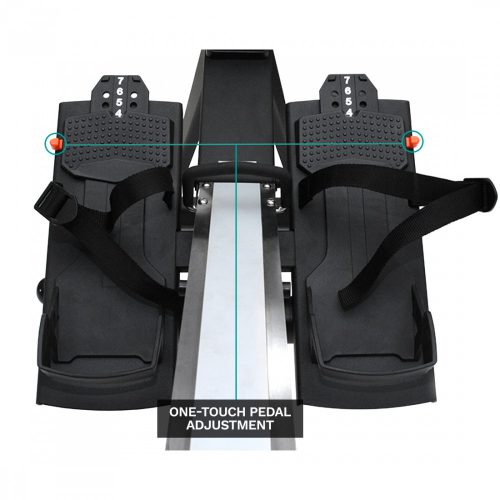 One Touch Pedal Adjustment
Working with a partner or have multiple users for the rower? No problem, the all-new Xebex Air Rower 2.0 features a slick one-touch pedal adjustment to quickly and comfortably fit any size feet.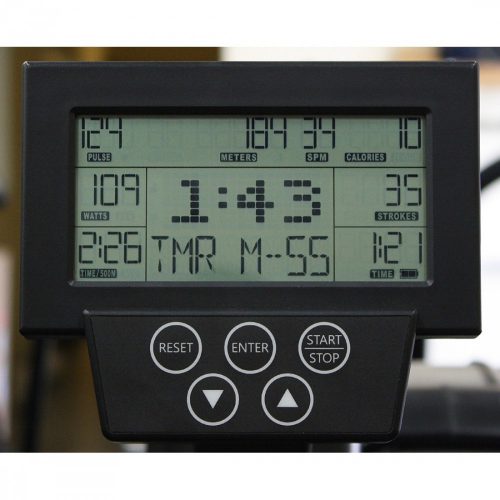 Intuitive Console and Feedback
Keep track of your pace, calories, watts, pulse and much more on the all-new console. The console also features large toggles and pre-built programs.
Tracking at all times: Time Rowed, Meters, Strokes per Minute, Calories, Watts, 500m pace per stroke, total strokes, heart rate (when connected to a heart rate monitor)
9 Displays in large middle window: Total Time, 500m Pace average of workout, Average Meter per stroke, Max Heart Rate, Calories per Hour, Force Curve, Max Watt, Watt Chart per stroke, Average Watt.
Pre-Built Programs: Quick Start, Competition Racing, Interval/Tabata, Target Time, Target Distance, Target Calories, Target Strokes, Target Heart Rate, and more!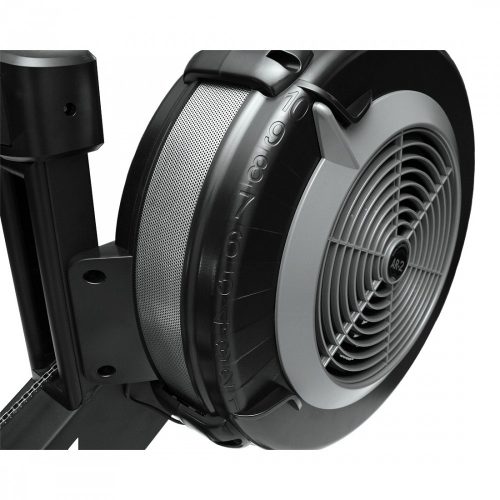 Adjust the Intensity for Every Workout
Whether you are a pro or just starting out, the Xebex Air Rower 2.0 features a universal resistance setting that mimics rowing in water; suitable for athletes of all levels.
You are in control of your output and resistance at all times. The amount of work you do is directly calculated by how hard you row. Row harder to go faster, row easier to go slower.
The spiral damper allows you to quickly adjust the airflow to the flywheel from little drag at Setting 1, to max drag at Setting 10. This is much like rowing with little drag or shallow paddle depth at 1, to max drag with deep paddle depth at 10.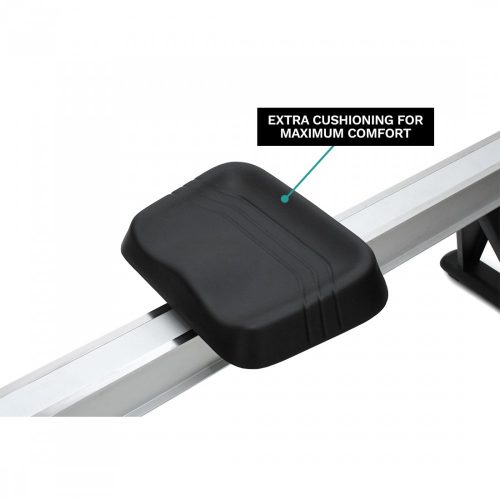 Smoother, More Comfortable Rowing Experience
Xebex Air Rower seats feature extra-padded, high-density foam ergonomically designed for maximum comfort while rowing.
Our uniquely designed fan to utilize air resistance allows the user to enjoy a smoother, more comfortable rowing experience that maintains momentum immediately from your initial pull. Enjoy a smooth, momentum-building pull with every stroke.
Have the comfort and ease of getting into and out of a machine that's "dining chair height." The 20″ seat height makes it simple to sit in and sit out after a long workout, if your knees don't bend like they once did, or from a wheelchair.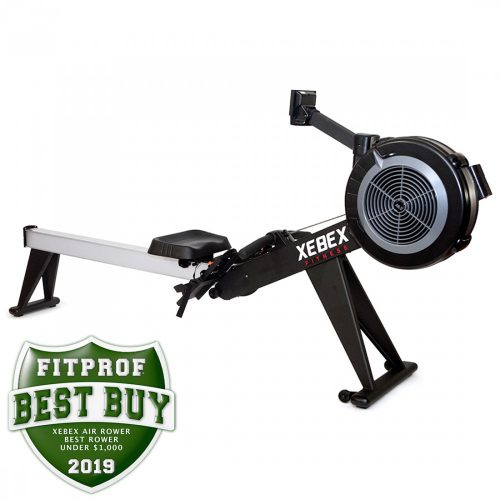 Compared to other Rowers?
Xebex Air Rowers have been tested with 1,000,000 pulls from Robotic Arms without failure. The damper settings have a larger range of resistance from 1-10, which allows users to find the perfect damper setting for them.
The base of the Xebex Air Rower sits nearly 2′ off the ground making it easier to get in and out and weighs nearly twice as much as our competitors. We also made the seat heavily padded so the user will be able to row more comfortably for longer periods of time.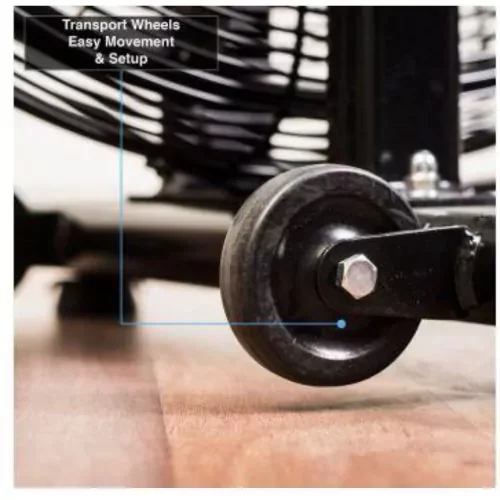 Easy Transport and Storage
Simply tilt the Xebex Air Bike forward and roll away using the 2 over-sized wheels from the front stabilizer.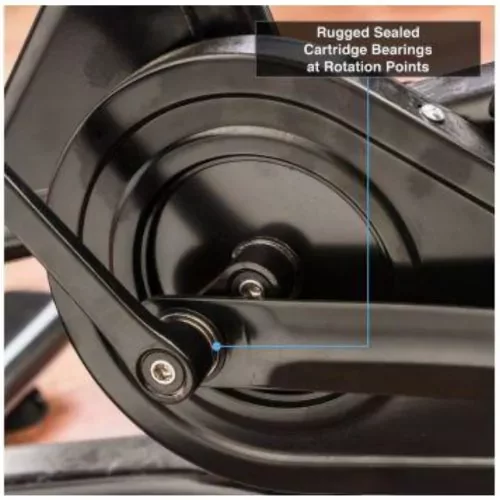 Quality That's Built to Last
More robust than competitor Bikes and uses more durable moving parts. Forged Chro-Moly Cranks, Sealed Cartridge Bottom Bracket, and Sealed Ball-Bearing Cartridges at every joint.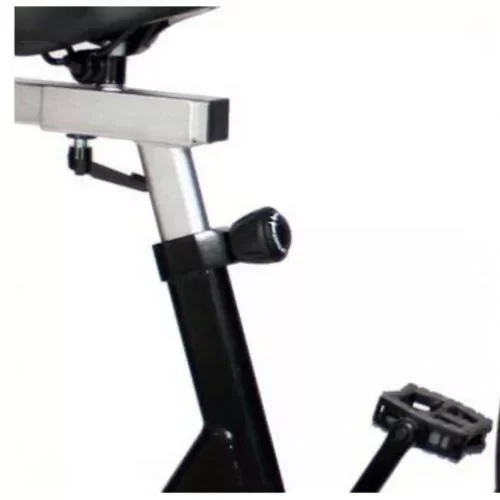 Comfortable and Adjusts to Various Heights.
Our 4-way adjustable seat allows you to adjust the seat up/down, and forward/back. Simply loosen the pop-pin and pull out to adjust the vertical distance from seat to pedal.
Next, loosen the seat track lever to slide the seat closer or further away from the handlebars!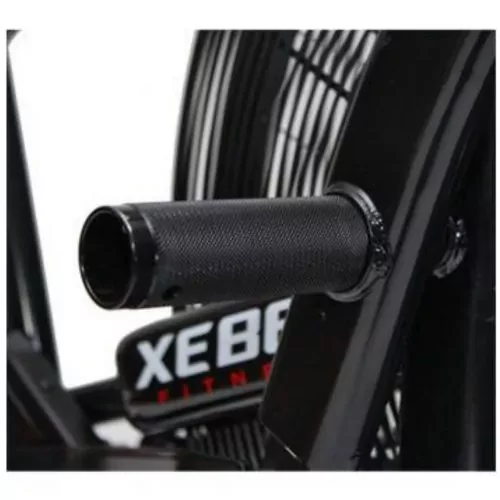 2015 and 2016 Reebok CROSSFIT® Games Certified
Competition Ready: The Xebex Air Bike comes with everything you're accustomed to and more! The Xebex Air Bike console measures distance, watts, speed, and calories with the identical formula to what was used in the 2015 and 2016 Reebok CROSSFIT® Games.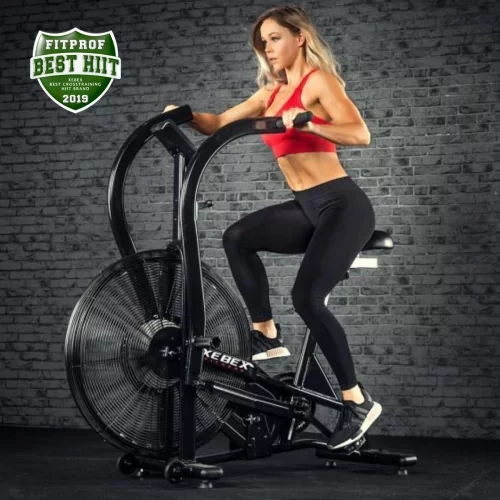 How does it compare to other Air Bikes?
We've reinforced weak points of other air bike models to create the most durable and robust bike on the market. The frame weighs more than comparable models which leads to more stability.
Higher quality parts such as our Universal Ball Joints where the Handlebars connect to the Linkage Arms is one example of how Xebex Bikes are built more durable and longer-lasting!